Around the World 2001
We planned our trip over several months but it not always possible to know some of the difficulties and as on previous trips we had enjoyed smooth sailing this trip we were faced with some challenges and disappointments along the way.
A "Claytons" stopover in Singapore
We hoped to incorporate a stop over in Dubia for a couple of days and in the end found it impossible both to fly QANTAS and also to fly via Dubia so we settled on an overnight stopover in Singapore as we refuse to fly 23hrs non stop, Our first problem was that we couldn't stopover in Singapore overnight either so we settled on having day stopover flying two consecutive nights. We won't be doing that again. However we had booked into a hotel very comfortable and after a short nap set off to explore. We walked to Raffles Hotel where we enjoyed lunch in the coffee bar and looked at a few shops when it began raining so we took up the offer of a $10 (A) taxi tour. After showing us a couple of things the driver then took us to the special souvenir shops, and when we said we weren't really interested and didn't buy anything he was a bit upset but he did drop us off at the hotel. In the hotel complex were a few shops and I did pick up some beautiful batik material at a much cheaper shop than the previous ones. So we just lazed about an in the evening took the underground to the main shops in Orchard Road then proceeded back to the airport where we discovered to our surprise that the plane stopped at Dubia.
We did have our Dubia stopover,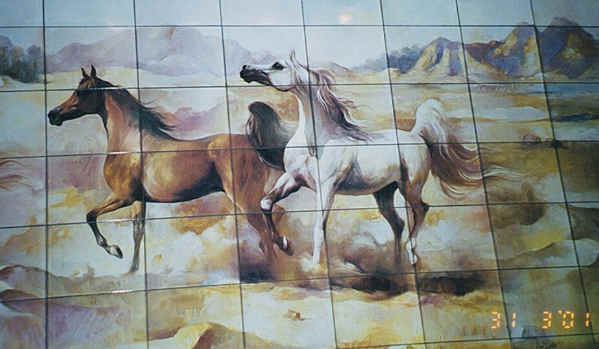 about an hour in the airport. Dubia airport is quite something with magnificent murals and a complete Irish Pub, roof and all, within the transit lounge. But very soon we were back on the jet bound for Istanbul's Attaturk Airport. We arrived at 7:30 am and were met by the hospitable people from Phosphorescence Travel who took us to our hotel the "Tosh Konak" in Sultanamet, the old centre of Istanbul. Our first Turkish breakfast was interesting, olives and cheese with fresh French style bread. At first that part of Istanbul reminded me of Thredbo village, I don't know why, maybe it was the wooden buildings and the cold.
Photo: Airport Murals depicting wild Arabian horses
Istanbul-the Byzantine and Ottoman capital
We soon organised our tours in Turkey for the next few days: a trip on the Bosphorus on Sunday afternoon and later, trips to Gallipoli and Ephesus. But we were within walking distance of the main attractions of Istanbul, the Blue Mosque and the Hagia Sophia. Both are magnificent, the Blue Mosque with its domes and minarets is a great sight and an inspiration, even to infidels like ourselves. Across a small square lies the Hagia Sophia one of the world's oldest buildings (built in the 7th Century AD). Originally a Christian church, later a mosque and now a museum with museum type charges to get in (about $A14.00). Its massive construction, huge spaces and ancient icons were awe inspiring. I'd had some interest in Byzantine history so it was the fulfilment of a dream to be in the church of the Byzantine emperors.
In the same area are the mosaic museum, the hippodrome and an Ottoman museum, all worth a look. Also the Sultan pub where you can get a beer for a reasonable price. All around this area are souvenir sellers and the ubiquitous Turkish carpet sellers. Turkish money can be confusing as they don't use commas (or full stops) between the zeros on their notes, so it is hard to pick 10 million and 1 Million lire notes. A mistake can be costly.
The trip to the Bosphorus was interesting but cold, the Bosphorus separates Asia from Europe. On both sides are prime examples of Turkish wooden houses, ancient forts and palaces.
Gallipoli
Then onto Gallipoli, the scene of ferocious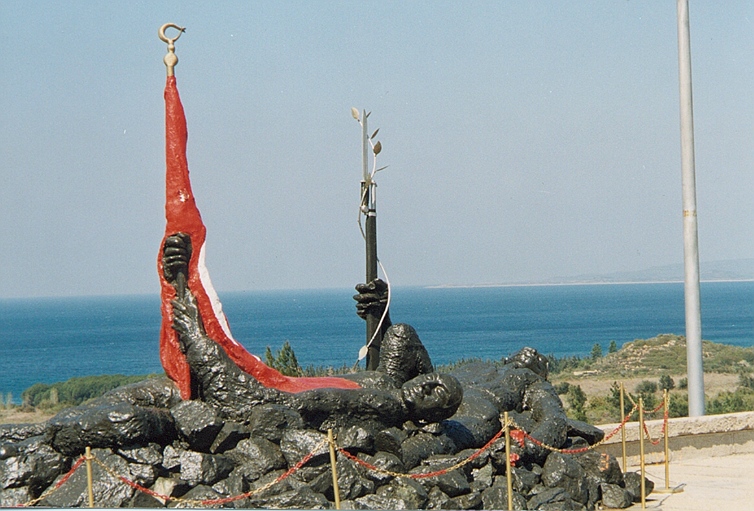 world war 1 battles which involved Australian soldiers. After an interesting bus trip through European Turkey we arrived at point near Canakkale on the Gallipoli peninsula where we were joined by our Turkish guide for the afternoon tour of the battlefields. He proved to be very thorough and knowledgeable about the conflict, a little too thorough at times, given that it was cold and windy. All Australians know the Gallipoli story (If you are not Australian have a look at the movie "Gallipoli" which stars Mel Gibson) so I won't go into it here, but the guide gave the Turkish perspective which was interesting. We were shown all the monuments, graves and trenches. The loss of life for so little is hard to reconcile but that is the story of the first world war.
Photo:Suvla Bay as seen from the Turkish War Museum-Gallipoli Peninsula
Our hotel, the Anzac Hotel was back in Canakkale was quite good but we spent more time at Anzac House around the corner, a backpackers with a good bar and internet facilities.
Canakkale is near ancient Troy so off we went for a morning tour, our guide was again thorough and knowledgeable. He told us the true story of Helen of Troy and after the tour stated that he was the only guide in Turkey who had no relatives in the carpet industry, but his brother had a coffee shop where he duly took us after the tour. Troy, its mainly ruins so don't expect to see all that much. The wooden horse is there so climb up it into for a good view. It's a trip for historical existentialism rather than sights.
That night we were booked on the 6 pm bus to Kusedasi (near Ephesus). Arrival time was supposed to be midnight but it was more like 2 am when we got to our hotel,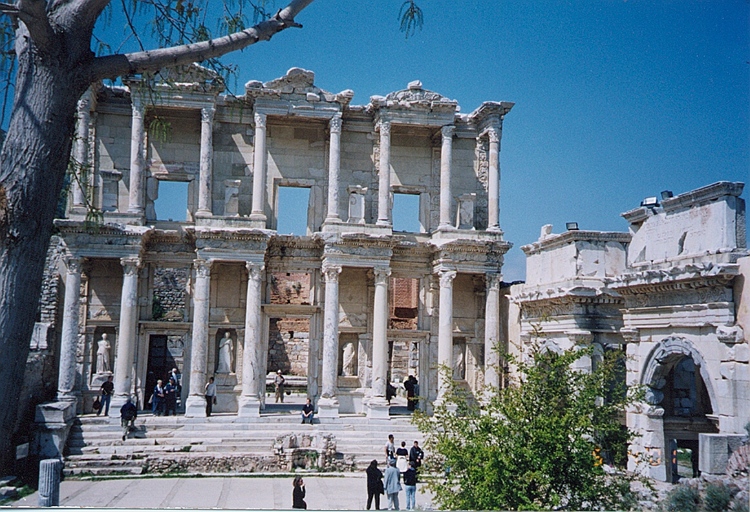 a modern property on the seashore of the Mediterranean. Thankfully it was a bit warmer here, next day another tour to ancient Ephesus. A truly remarkable place, quite unlike Troy. Another well versed guide showed us around this historical city of the Greek, Roman and Byzantine empires. It was only abandoned because its harbour silted up, today the sea is a good kilometre away. If they had dredges, it may still be an important city.
Photo:The ancient public library at Ephesus
Apart from Ephesus we are saw the ancient Greek Temple of Artemis (mainly ruins) and the final home of Mary, the mother of Jesus. The home is now a small shrine. I was intrigued because in all my childhood years of Sunday school and church, I (and if my memory is correct no one else) ever thought, or cared, about what happened to her and Joseph after Jesus's death. Anyway she ended up in Ephesus which is quite a long way from Nazareth.
After, these few very pleasant days of sightseeing we now faced a long journey by bus and train to Bucharest.
The Bosphorus "Express"
We recently completed a round the world trip which included a rail journey from Istanbul to Berlin. As we wanted to see eastern European cities such as Bucharest, Budapest and Prague it seemed a good way to go. It was, apart from a few problems which are set out below.
Firstly, it's very hard to get up to date railway timetables for trains out of Istanbul. My travel agent didn't have one. They did have an old Thomas Cook timetable but it had limited information on Turkey. I was able to obtain some information from the Romanian Railways Website, but how reliable was it?
Secondly, the Turkish Railways have a complete monopoly on International rail tickets. Consequently, no travel agents either in Australia or overseas can deal with bookings on trains leaving Istanbul for destinations out of Turkey. The only place to make a booking is at the main station in Istanbul (Sirkeci).
We had a Balkan Rail pass which is similar to the Eurail pass except that it covers the Balkan countries instead of Western Europe, and like the Eurail pass it entitles you to first class travel.
The Romanian Railways Website reported that a train left for Bucharest from Istanbul every day at 15:00 and 23:55 but we needed to verify it. The 15:00 train suited us fine as it arrived in Bucharest at 9:00 the following morning giving us plenty of daylight travel. As well overnight travel would save on accommodation costs. We would also have enough time in Bucharest before leaving for Budapest the next day. We had a Hotel booked in Budapest so we had to get there at the anointed time (the Hungarian Embassy in Canberra had warned us to arrange accommodation in Budapest as it is very scarce). Our very helpful travel agents (Phosphorescence Travel) were unable to help us with railway travel because of the above, but they told us where the station was.
So we trekked across Istanbul on a cold Saturday afternoon to the Sirkeci station, terminal of the famed Orient Express. If you're used to the "customer focussed" service of the airlines and travel agencies then old fashioned railway service is a bit of a shock. We were told that the 15:00 train no longer ran and the only option was the 23:55.
So we had no choice, the 23:55 was the only show in town. If you're staying at a hotel a late departure time is extremely inconvenient, you don't have any accommodation and a face a very long day before departing for your next destination. Therefore, we decided to book a trip to Gallipoli and Ephesus which would get us back into Istanbul at 20:00, 3:55 hours before the train left. In the event the bus was late and a taxi driver took us to the wrong station (Allah knows where). Loud music which made conversation impossible dominated his taxi and caused a considerable diversion. We eventually got to Sirkeci in time but the "rip off" taxi fare depleted our Turkish currency and we had no money to book a sleeper. The Turkish Railways did not accept any credit cards so we had to reserve seats on a second class carriage. There were no seated first class carriages.
The train was at the platform with the ubiquitous Attaturk monument. However, the carriages were in complete darkness, my wife had a small torch so we found our seats and sat in the dark for about 45 minutes. With 15 minutes to go the lights came on. The carriage, belonging to the Romanian Railways, was clapped out. The toilets were filthy and no water was available for flushing or washing, as well the heating did not work which meant that by morning we were almost freezing.
On a positive note the train left on time. We travelled through the night through European Turkey (Thrace) until reaching the border city of Edirne at about five. Police came through the train and ordered everybody off the train for passport control. I do not know what use a sleeper would have been under these circumstances. After about 45 minutes we pulled out to cross the Bulgarian border. Once over the border we stopped for another hour for passport control and locomotive change. By this time it was light and we could see the quite attractive Bulgarian countryside with its rural villages, forests, mountains and tunnels.
Bulgaria was ruled by communists until 1989. Communist rule ended at the same time as the other East European States, after the fall of the Berlin Wall. I did see a bridge with a hammer and sickle sculpture on its arch, a remnant of its Communist heritage. Bulgaria is not one of the world's most developed countries but the lack of advertising hoardings was a pleasant change after heavily commercialised Turkey.
Country roads in Bulgaria seemed to be as they were in Australia many years ago, very narrow with very few cars.
At Stara Zagora some five Bulgarian people joined our compartment. An English teacher, her friend and three of their children. However, it took some time before we realised that she spoke English and struck up a conversation.
We had no Bulgarian money and as far as I could see there was no buffet car, nor any food service of any kind. As we had no idea of how long the train stopped at each station, neither of us was game to get out of the train. There were no announcements on any of these matters for the entire trip. Besides this the Cyrillic Bulgarian alphabet was hard to understand. Consequently we had no breakfast or lunch. Fortunately we did have some drinks.
The Bulgarians gave us some sweets at about midday and later in the afternoon shared some cake type of food which was quite tasty and not to sweet. Although the guide books say don't accept food we were a bit desperate and the people seemed OK. As it turned out it wasn't poisonous.
Some times you have to make a judgement on these things and not act out of fear. The teacher talked a bit more as the day wore on. They were going to visit their mother in Northern Bulgaria for Easter and had never been out of Bulgaria. In contrast we had come from Australia and were to visit countries around the world. But on this day we glad to get some of their food.
Eventually the train reached the Bulgarian border town of Ruse where the train stopped for a long period. I asked a passenger how long it would be stopped. He replied that it would be stopped for an hour on the Bulgarian side and another hour on the Romanian side. I couldn't believe it and hoped he was joking. He wasn't. By this time it was 5 o'clock and I found it hard to believe that we would be in Bucharest by 5:30pm. The train pulled out of Ruse and after passing the usual concrete factories we crossed the mighty Danube into Guirgiu (Romania) where sure enough we were detained another hour for passport control.
The time dragged on and it became clear that we would arrive in Bucharest about two hours late when it was almost dark. I asked some Romanian soldiers why we had to stop so long but all they said was "passport control". When I suggested that such procedures were out of date they said nothing.
After finally leaving Guirgiu we travelled across the flat plains of southern Romania to Bucharest. It was dotted by huge power stations and large electrical transmission lines, a legacy of Communism's drive for heavy industry. The villages looked poor with dirt roads and unfortunately the country was strewn with rubbish, plastic bags and other household junk. Ian McKiernan you are badly needed in Romania. Stray dogs were also in abundance. Eventually we arrived at Gara Nord, the main Railway Station in Bucharest. My impressions of the city were that it was a combination of Soweto and Canberra. After converting our currency, finding a hotel and getting a much needed meal (incidentally the best pork steak I have ever had) it was late and dark.
As we had to leave early next morning my wife suggested that I should have a look around the area near the hotel. Although I was tired, I agreed as it would be my only chance to see Bucharest. I was barely out for five minutes when a man approached me to change money. Before I had a chance to say anything (which would have been no) a police officer said that I was under arrest for currency dealings (all in good English). My wallet was inspected and I was quizzed on where I'd got the Romanian Leu, to which I said "the Railway Station" (fortunately I had a receipt to prove it). He then wanted to know where I got the Australian money. I explained that as I was Australian I could be expected to have some. The police Officer then saw a passport in my shirt pocket and without asking pulled it out to inspect it. Having seen that I had a proper visa he must have decided that I had committed no crimes. Nonetheless he gave me a lecture about Romania's drug problems, before letting me go.
Although I had the departure times for the Budapest trains (from the Internet) I did check them at the information desk at Gara Nord, just to be sure. However, the times they gave were wrong by, about 20 minutes (late).
As I only had a Balkan Pass I would need to pay for the Hungarian section as well as making a reservation (which is required in Romania). But when I went to the ticket office the official said "it's to late the train is about to leave right now". So I went to the platform where my wife was waiting with our luggage. With the train about to leave I just said "get on, they can only throw us off or we can talk our way out of it".
Sure enough when the ticket man came he said "problem" in an official tone. Unfortunately he did not know any other English, or maybe "problem" is also a Romanian word. Fortunately, there was a Romanian on board with good English who helped us out. He, I believe, told the ticket man to "let it go to the keeper" as we were not bothered again.
We made our way through Romania (Transylvania-but no vampires) without any tickets for the Hungarian portion. I thought that I could by a ticket at the Hungarian Border station. As it turned out when we crossed the border I could not see any sign of a station or a place to buy tickets. Incidentally we were not held up for any undue periods by either the Romanians or the Hungarians at this crossing. Although the Romanians did want to inspect my luggage-they were looking for stolen icons. I didn't have any.
Consequently I would have to meet my destiny with a Hungarian ticket collector, after all travelling without a valid ticket on a Canberra Bus is not viewed lightly, let alone a European Railway. But much to my surprise he just looked at our Balkan pass for a while and suggested that we go to the ticket office in Budapest and get a day taken off rather than paying the fare. This was a great relief.
We arrived in Budapest on time and went to our hotel (the Taxi ripped us of again). When I went to the station to get our Balkan pass amended they did not know what I was talking about.
After Budapest the trip was pretty straightforward. We were able to buy tickets at travel agencies and use credit cards. The trains had food services and immigration and customs officials did their job while the train was moving, as they do in most parts of Western Europe. We even had a complete schedule of when and how long the train stopped at each station together with announcements over the PA in English.
Finally another aspect of trip was Hotel prices. When we made bookings over the Internet through agencies we were able to get reasonable prices, about $A80.00 a night B&B. However, when we walked in of the street the prices just about doubled. For example in Istanbul our prearranged accommodation cost about $85.00 a night. The prices displayed near the reception desk stated that the price was $US120.00 a night ($A240.00) a huge price considering the standard of accommodation. It was perfectly good but not that elaborate. It seems that Internet based companies are buying up large slabs of Hotel accommodation at cut rate prices which means that hotels have to make up the difference from those who turn up at the reception desk. I am talking about 2 or 3 star hotels, not the Hiltons.
If this is true then it is going to make life hard for the independent traveller who does not like to be tied down to being in a certain place on a certain date.
Budapest at last!
Our arrival by rail at Budapest was anticipated with joy after 2 days of train travelling and as usual we needed to change money and find a taxi to our pre-booked hotel. It is always disappointing to have an unpleasant experience on arrival but what you do about rip off taxi drivers I don't know but next time we wont accept the offer by someone on the platform we will just go the taxi rank. We were charged double.
The hotel (Emke) which we booked on the Internet, before leaving, was very comfortable and when asked we were directed to a very good reasonable restaurant close by.
We found Budapest wonderful we could walk to the shops and quickly learnt to use the underground railway - a word of warning we failed to validate our ticket and could have been up for a hefty fine. When a fellow passenger realised we had not done this his advice was to "look the other way" fortunately the ticket inspector was not vigilant.
After wandering around the city in the morning and as the weather was extremely cold we took a bus tour to the castle. This was a bit pricy but we saw a lot of the city and learnt a lot of the history and the castle was quite magnificent. There were no laggers getting back on the bus mostly due the freezing weather. A bonus for us the guide informed us that there was an English speaking tour of the Parliament house at 10 am next morning and as we used the underground we saved money and the Parliament house is not to be missed. We find walking easy and we came across lots of interesting statues and buildings. We happened upon the monument to executed dissident Communist leader Imre Nagy, it was impressive.
There is a good shopping centre in Budapest including an internet café and also souvenir stalls. We loved it.
On to Prague
The next day we continued our trip by train to Prague. Each time we took a train the quality improved, but beware of people offering to help, they expect quite a tip. We knew we had a problem with accommodation in Prague as we had got our dates wrong and it was Easter. Unfortunately there are several stations in Prague and getting off at the wrong one didn't help as we then had to go by subway to the right one but we found the accommodation office and found a room. The hotel was a bit out of the city but very nice, and the office ordered a taxi which saved us quite a bit. The advantage of being out of the city was that meals were extremely cheap and a three course meal for two with a bottle of good wine was only $A30. The disadvantage was that getting to city was bit confusing and working out the tram was difficult. We learned later that the hotel sold tram tickers and once again we had free travel but could have been in big trouble. How were we to know? We would have happily bought tickets had we understood the system.
Even though it was April the cold weather persisted but having found our way the old city we joined a walking tour. This is a great way to go. Not that much walking but a lot of information regarding the buildings and historical aspects of them, it lasted a couple of hours and ended in Wencalas Square. After a good lunch in a Mall (where it was lovely and warm) we took a tram up to the Castle. The trip up was interesting just the train ride and the Castle is magnificent. Very large, very old and full of interesting statues and the church is still in use. Outside there was a bright happy high class musical group playing which added to the experience of being in the Czech Republic, Authentic!
That evening we had another great meal and next morning we just wandered around the local shops and then got the train to Berlin.
Berlin
Berlin railway station (the Zoo Station) was big, lots of people and the accommodation we though we had with a private family did not work out so again we had to find accommodation . It was about 5pm and freezing and we were told it was about 5 minutes walk and 29 minutes later after dragging our suitcases behind us we found the hotel. After Turkey and Central Europe Berlin was a bit of a surprise. In those places plenty of dodgy guides. porters, and souvineer sellers but in Berlin you were left completely alone, a bit like Canberra. Again this was about $200 a night but very nice. We had a good Italian meal and after a good night's sleep and a great breakfast- the best on our trip- we set off to explore. We found a bus which took us to all the points of interest around the city and which gave a good commentary. It was too cold to get off and explore and we had rather bad colds. In the afternoon - it was Easter Saturday -we joined thousand and thousand of shoppers in the big department store. Everything was out of our price range but it was fun, but being cold we just made our way back to the hotel. Had it been a bit warmer we could have got the underground and spent some times at some of the interest points such as Checkpoint Charlie. It is hard for Australians to understand what it must have been like, indeed the life like poster a Communist Guard at the checkpoint was rather scary. Berlin I found having been rebuilt after the war was rather sterile and had little atmosphere apart from the half bombed Cathedral which stand as a sort of monument and reminder of the bombing.
The eternal city-Rome
Next morning we began our trip by air to Rome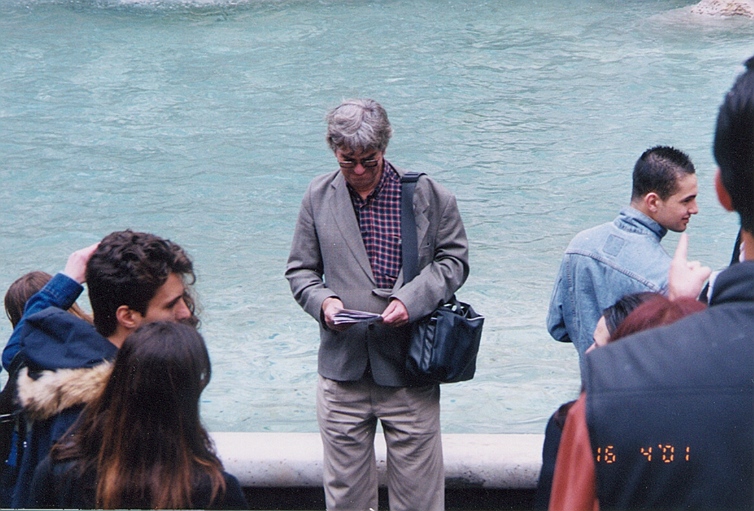 with a long wait at Munich which meant our day was rather wasted however arriving at Rome there was more trouble. Terry's luggage had not arrived and it took quite a bit of time talking to airport staff who assured us that it would arrive later that evening. We found a hotel and boarded a bus which took us all around Rome dropping people off here and there. As it was early evening all the monuments were lit up and very spectacular especially the Colosseum. The hotel Miami was upstairs, entry by a half door , it was easy for one of us (not me) to end up banging your head) but the hotel was quite comfortable and the staff very friendly. Next morning (still no luggage) we set off by foot to explore this wonderful city . All the monuments are on such a grand scale it is hard to take it all in. Next morning we mastered the underground and found a Target like shop and Terry bought a few essentials, jeans a shirt undies socks and toiletries. We despaired of ever seeing our luggage again but we still had fun exploring. We found an internet café with birthday greeting from my kids a an ultrasound of my son's expected baby. - different but it was good to be able to keep in touch so easily.
Photo: Terry checks the map to find the way to the Trevi fountain
Not yet tired of life nor tired of London
Another day another city and next morning our destination was another of our favourite places 'London". However before we left Rome airport we did a tour of the lost luggage room in the bowels of the airport - to no avail and arrived travelling light, one of us anyway at Heathrow.
We had booked a hire car and fortunately were warned that we would be pushed into getting extra car insurance that we did not need so we say a polite 'no thank you' and preceded to get a bus to the Avis car hire and we took our car. All this is very time consuming and it did take us a while to find our hotel. This was very expensive and a bit like a rabbit warren but rather luxurious. We had a light meal, It was my birthday but so what. Next morning we had a great buffet breakfast but once again there was a sting. We were required to pay about $A16.00 dollars for parking. This was something new.
Having a car in England gave us a great deal of freedom and next morning we set out westwards. We arrived at Oxford and decided to have a sort of rest day and managed to find quite a good of all things a motel We realise how easy having motels in every town and city in Australia is so we appreciated this one. It was out of price range and due probably due to the slow down resulting from the foot and mouth catastrophe we negotiated a better price. We took advantage of a travel free day to shop, clothes cough medicine and a few other essentials . We found a pizza parlour near the motel and I can only say we were battling to get anything like value for money.
Plymouth Ho
Next morning we headed for Plymouth and enjoyed the off road travel facilities - food, toilets and had we wanted it motels or even a hair cut. Driving in England is easy with a good map , maybe we went a couple of times around some of the roundabouts but what the heck, we arrived in Plymouth by lunch time, found a B&B and explored Plymouth Hoe the wonderful shops the great pubs and fitted in a tour of the Museum particularly relevant to Australians as it was here Captain Cook left for his epic sea voyage and discovered Australia.
As you can tell we really moved around and next morning we went through Cornwall, Terry has some connection as he grew up in Moonta SA which is known as Little Cornwall as many of the copper miners migrated there to mine copper and Terry has a part Cornish background. We lunched at Penzance drove through St Ives which is just wonderful and I hope we can revisit for longer sometime and ended up in Exetor where we overnighted. One thing that I find irritating is that smoking is allowed in restaurants and even though smokers are segregated fumes still spread . Just one good litigation would change that.
Next day we headed for Wells and spent quite a few hours including lunch with long standing friends. This is quite a highlight of our trip, sitting in a cottage catching up is quite wonderful. Now on towards London. We were feeling the loss of our B&B books which were in our lost luggage and finding accommodation in Wells was impossible so we just kept driving and came across a place in Datchett which was OK, price being more important than any sort of luxury.
Well it was time to head for Heathrow and return our car next day . We made enquiries about our luggage and spent ages going from person to person. Finally we found on very helpful person and we asked her to forward our luggage back to Australia, giving my son-in-law's phone number but our hopes of ever seeing it again were minimal. Next we caught the very fast train to London and needed our credit card to pay for it, We had organised accommodation at Paddington. My fitness level had increased tremendously since leaving home but I found the three flights of steep steps challenging and an extra flight down to breakfast almost defeated me. For the price it was very modest but at least it was convenient . We spent two days exploring London, shopping and going to a play and wished we had more time. Also we had more friends to visit where we had a wonderful meal and caught up with the gossip. It is such a pity Australia is so far away from the northern hemisphere.
Little houses on the prairie?
Our next destination was Calgary, Canada. We spent thee morning hanging around Heathrow as you do and the 8hr flight was easy. On arrival we found a hotel named Sandman which was quite luxurious and convenient to the town The hotel had a bar, a good restaurant Breakfast and was typically large a choice of eggs or eggs in various styles We had pancakes with maple syrup and found that one serving was more than adequate for two people. Chatting to a waiter one morning who was part New Zealand we jokingly said that being Australians we didn't tip. Poor thing they need tips to make working at all worthwhile and he said that the tips were shared with the kitchen staff, Well of course we tipped. We had a couple of days exploring and organising that wonderful Rocky Mountain train trip.
The Rocky mountain trip lived up to and surpassed all the expectation gleaned from travel brochures and travellers' tales.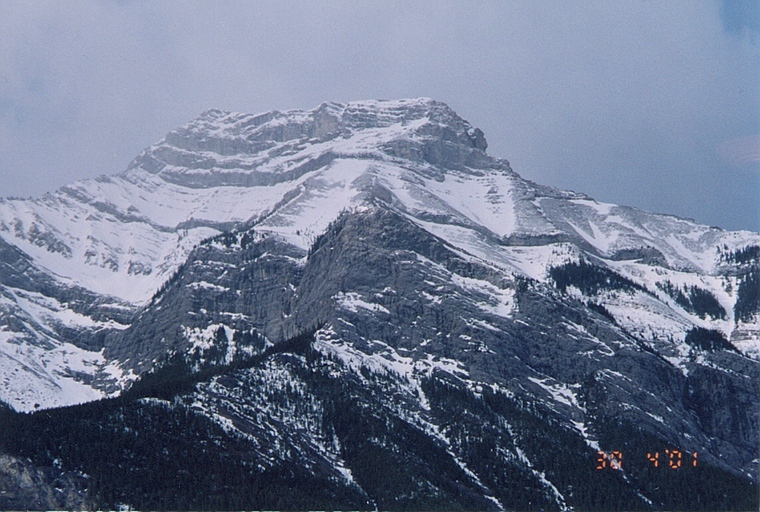 We went Red Leaf class which is one down from Gold class and we think just about as good. The scenery was awe inspiring the hostesses a fountain of knowledge who apart from the constant supply of good food and other refreshments kept up a running commentary of the scenery and history and answered any questions we asked. We overnighted at Kamloops, stayed at a good hotel with friendly helpful staff and went to a show that evening that included a buffet, actually the food was just so so. Another early start next morning another wonderful days travelling (just forget the budget and do it) arriving in Vancouver about 4.30 pm.
Photo: Canada's Rocky Mountains as photographed from the Rocky Mountaineer
We just loved Vancouver and as well we contacted my daughter's brother in law ex pat Aussie who told us our luggage had arrived at our place in Australia intact (a great relief) and had a meal with us. We enjoyed our walking tour of Vancouver, were fascinated by the steam clock and used the internet services of the Vancouver public library. (news from home). Next day we did a trip to Victoria surprised how far it was but enjoyed the ferry ride and the scenery and the interesting buildings and the shops. The highlight of the day was the visit to Butchart gardens, being spring it was magnificent. Victoria being the capital of British Colombia has a magnificent parliament building, my Hussband Terry is interested in politics and had a look at it. At that time a State election was being held and it was predicted that the government would lose every seat, something unheard of in Australia. (they actually held onto three I believe) The following day we spent with our friend and his two delightful children visiting a park and seeing a racoon. Unfortunately another plane that evening, or rather at midnight, and the start of our trip home. However one last stopover at Honolulu.
Arriving anywhere at 2am with a time change to cope with always poses problems of sleep deprivation but the excitement of seeing the city lights helped. The hotel was expensive we were adjusting our budget upwards all the time but once again rather plush with a big bed (king size).
Next morning we walked around the shops. Shirts are big in Honolulu, actually they are all sizes and everywhere and it seems apart from the beach which didn't really impress- not as good as Australia's but we did only see Waikiki. There are free buses to most shopping centres and at one which had the Aloha Tower we saw a display of children dancing Hawaiian dances (wonderful) and found a pub which had beer tasting - not for me but my husband enjoyed it. Then another midnight flight to Sydney, a bit of delay and a last flight this time to Canberra with a taxi waiting just for us (inside knowledge) and home.
All over the six week trip cost us $A18,000.00 which wasn't too bad for such an adventure considering the low $A and we mostly had high level of comfort (not the train trip from Istanbul) we ate well and had a wonderful time. However we still have itchy feet and have started saving for our next spectacular.
Back to travel adventures transit lounge