Zoom Zoom to Broome
Everyone has been to Broome except those who want to go and those who are planning to go or are already on their way.
Well we finally managed to get there but not without a bit of angst because we locked ourselves into dates (had to use those frequent flyer points ) and because we had some difficulty in finding out about places and trips etc. We did find the Northern Territory Tourist Centre at Darling Harbour a great help but the problems were that we also wanted to go to Kununurra in Western Australia and then Broome and then Perth and it was difficult to get information about WA.
We flew into Darwin and took it easy on the first day. We had been to Darwin and Kakadu before so we did not have to see all the sites on this trip. On Saturday we ventured out to the Parap Markets where I bought a hat for protection against the unrelenting tropical sun. While at the markets we found a notice about tours of the Northern Territory Parliament. There were only two on Saturday so we decided to have a look. We managed to get there in time for the 12 noon tour. It was free and lasted about 90 minutes. It was well worth it as the guide told us about a lot of local history, in fact the Parliament is on the site of the original post office that was bombed in World War two. The Parliament is a magnificent building near the port area.
After a day and a half in Darwin we took a three day bus tour to Katherine and Mataranka. The first day included going to various gorges including Litchfield Park where we swam and stood under the waterfall,( well one if us did ) and arrived at Katherine about 6pm rather tired. The next day we drove to Mataranka rather special for me as I had grown up with the "We of the Never Never " and "Bett Bett" the little black Princess" books and it was just wonderful to see the replica of the homestead there. It was quite an oasis complete with thermal springs pool and again one of us enjoyed a great swim.
In the afternoon we took a boat trip down the Katherine Gorge. To say it is spectacular is underrating the experience and it is no wonder that so many people visit, including overseas tourists
The next day we were taken on an aboriginal culture day at "Manyallaluk" which is run by aboriginals not far out of Katherine. We were greeted with billy tea and damper. We were taken on a bush walk and told about bush tucker and when we came back we had lunch. Lunch consisted of kangaroo tail cooked in foil in an open pit, barramundi steak and salad followed by a fruit platter- quite enjoyable. After we could have swum in the billabong but didn't and then we did, with help, grass mat weaving, spear throwing and fire lighting with sticks- some were more successful than others and bark (ply) painting and a visit to the shop where we enjoyed a duet on the didgeridoo. One of the players was a local Aboriginal and the other a member of the tour party from Reunion in the Indian Ocean. It was brilliant, a bit like duelling guitars.
The pine tree motel at Katherine (named after a rather forlorn radiata pine near the entrance) was quite comfortable and as it was owned by the tour operator North Australia tours was well integrated into the tours.
We then returned to Katherine collected our luggage and took a bus back to Darwin. It was quite eerie seeing the bush fires that seem burn constantly in the dry season, especially when the bus video was Mississippi Burning.
Next day we flew to Kununurra, I had my bag searched for fruit at the airport but had none. I had come out in a severe heat rash and was glad the little town supported a chemist, supermarket, a coffee shop and a few other shops We stacked up on bottled water-a must for such a hot climate.
Next morning was another highlight as we flew in a small plane into the bungle bungles. After jumbo jets and other large planes a small Cessna is a shock. Sounding more like a Harley on starting than an aeroplane. The trip out was fairly rough and we flew over the Argyle Dam and some stations and got some understanding of the vastness of the area. A bus was waiting and we proceeded to a site not far from the magnificent Bungle Bungles and it was a fairly short walk right into the chasm and further down into a gorge. Unfortunately one of us was feeling the effects of the 40' heat and as soon as I reached the shade decided enough was enough. The rest of the party went on to the end of Cathedral Gorge while I recovered and was able to walk back to the bus where after afternoon tea we caught the flight back. What a wonderful day. Where I stopped I was surrounded by these dome like structures and it was so amazing it nearly took my breath away.
The next day was a trip to Argyle lake. A short bus ride a trip on the lake where we fed fish saw some rock wallabies had lunch and boarded another boat to take us down river back to Kununurra.
This was another great experience . It is one of the world's best river cruises. It is operated by Triple J tours (no connection with the radio network). The trip down the Ord river through the majestic Carlton Gorge and other tributaries of the Ord is awesome. We saw fresh water crocodiles plenty of bird life and interesting vegetation. I might add that when we went for our evening meal we just about fell asleep while we were eating.
Day 3 at Kununurra saw us heading off early to the famous El Questro station. What a pleasant spot, but one of us did not do the walk down to Emma Gorge where I am told the swimming was great, however we then bussed it to another thermal pool and onto the town where lunch was waiting.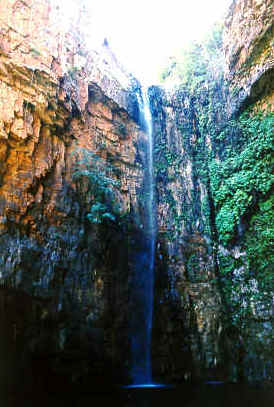 After lunch we had another boat trip down the gorge and an opportunity to see some rock paintings. This was the last trip out of Kununurra and we felt as though we had seen some of the real remote part of Australia and privileged to have seen so much. There is always more and who know we might return some day.
Photo: the waterfall at the end of the spectacular Emma Gorge in El Questro
We had had some difficulty in organising how to get from Kununurra to Broome and had looked at a bus trip but that was booked out and in the end we hired a car (not four wheel drive) as we were told it was not all that necessary. However, it did restrict us to sealed roads.
The next day with our car we started off backwards and headed off to see Wyndham. The big Crocodile is right in the middle of street as you enter but apart from that there isn't a lot to see. We went to lookout to see where five rivers meet and it was either all dried up or a very low tide. However we were glad we had made the detour. Our first stop was to be Halls Creek about 300 kms away. The sealed road was good, there were a few road trains going in the opposite direction and apart from that not very much of anything. We were conscious of the fact that road houses were sparse so that when we reached Turkey Creek we filled up not only ourselves but the petrol tank as well. There were a lot of four wheels drives either towing a caravans or a camper van. We were happy with our little car that was not a petrol guzzler. We arrived at Hall's Creek about 4pm and found that the "Kimberley" Hotel, where had booked in, just great. The pool took centre stage and as it was Sunday evening the hotel turned on a $20. Carvery and all the locals from around had come in. It was a great meal and the Motel was like an oasis. We left early next morning and let me tell you there's not that much in Hall's Creek. The few shops there were heavily protected with iron grills.
The road to Fitzroy Crossing was again in good condition, lots of Boab trees and only one road house but the Resort was quite nice, the shops very limited, a supermarket post office and takeaway a pub and a tourist bureau that was very interesting.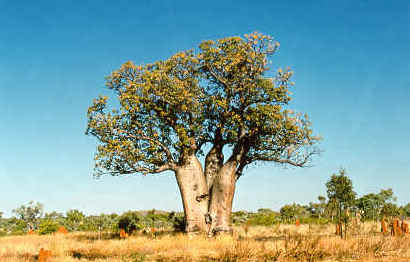 I think there may have been a few other shops but we didn't see them. However we did go down to Geikie Gorge which was lovely, the flies were a bit of a problem and the heat overpowering. We enjoyed a good meal at the hotel.
Photo: A large triple trunked boab tree near Halls Creek
Next morning we were really on our way to Broome. Just one roadhouse but the hills and vegetation became sparser and so we arrived in Broome. The Mercure Hotel where we stayed had a very large swimming pool a good dining room and a laundry so we were very comfortable.
Broome is not a big place but it is unique in terms of its ethnic history and architecture. Originally the centre of the pearling industry it was exempted from the full provisions of the "White Australia Policy" in the early part of the last century. The population was a mix of Malays, Chinese, Japanese and Europeans, a heritage that is still evident today. We decided to try the local Chinese restaurant on our first night in anticipation of authentic Chinese food, it was OK but much like Chinese anywhere else in Australia.
As we had done a lot of organised tours out of Darwin and Kununurra we were inclined to take it easy in Broome, just hang about and enjoy the ambience. We arrived with a hire car which was due back the next day so we took the opportunity to look at all the sights, such as the Port, Cable Beach and Gantheaume point while we could. However, Broome has an excellent Bus service connecting the town and Cable Beach with an hourly service during the day. The only problem being that it stops at about six o'clock.
The town centre is called Chinatown and has the unique Broome architectural style of wood and lattice work with the colours of red and green being predominant. It has the usual range of shops found in most Australian towns.
In one part of Chinatown was a tourist attraction called Pearl Luggers which was dedicated to telling the story of the pearling industry. It is worth a visit, the format is fairly simple. A former pearl diver who goes by the name of "Salty Dog" tell you all about diving and pearling. He was a pretty good story teller and gives one a good feel for the perils of the industry. For example-The bends, when surfacing too fast a diver can get severe pain. He said that if you get it at nine o'clock at night on the boat go can't go to a compression chamber, the only way to cure it is to go back down in the water. Going down 20 metres in the dark must have an ordeal. As he said there are things down there that can see you but you can't see them.
An interesting experience in Broome is to go on the Mangrove walk which starts near Hamersley Street. Mangroves may not be the most scenic of trees but the ones that line Roebuck Bay are subject to the legendary tidal surges of the Kimberley. We were walking around and heard the gentle sound of lapping water. Walking further into the mangroves we saw water coming in at a fast rate. Ground that was high and dry one minute was inundated the next and so on. We put markers on land and observed the time it took for it to be underwater, it didn't take long.
Near the mangrove walk are the Monsoon gallery and Matsos Café, both interesting. Matsos café also has a micro brewery where they make some pretty good beers.
As members of a hotel loyalty scheme which does provide some good discounts we sought out hotels in that chain, but in Broome we could only stay three nights at the hotel concerned, as we wanted to stay six nights we needed to find other accommodation. We opted to find a place in Cable Beach to provide some variety, the Mercure was in the town of Broome. We settled on a place called Blue Seas Resort. It was good to get into some larger accommodation where you could spread out. As well it was close to Cable beach where we went for a few swims, the only place where you can walk into the water without hesitation as it was so warm. The waves weren't big but good enough.
Broome has a reputation as a centre for indigenous and multicultural music. We wanted to see some of it and after checking the local papers we found that Steve Pigrim would be playing at the Beer and Satay Hut on Friday night. So we went along and sure enough he appeared with some of the family (plus dog) and played and played. Here was a musician who had released at least three CDs, been on national television and radio playing in a local pub for nothing!
Blue Seas Resort is close to the original resort complex built by Lord McAlpine in the 1980's, the one that started to Broome boom. It is quite huge and used to include a large zoo stocked with exotic animals. The zoo is no longer, for reasons unknown to us.
But one thing the resort has is a public bar near the beach where you can have a drink and a meal at reasonable prices and watch the sun set over Cable beach, a magical experience.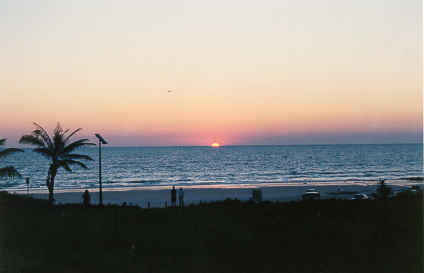 We did not take a camel ride; Broome is noted for them but we did see plenty of camels on their way back from the beach
Photo: Sunset over Broome's fabled Cable Beach
But we had to leave Broome the next day, we were to fly to Karratha. Broome has a Humphrey Bogart (Casablanca) style of airport. Small, in the middle of the town and a host of piston engine propeller planes on the runway. Our destination was Carnarvon and we had quite a bit of trouble getting there as a long drive through monotonous desert did not appeal to us, and we found our only option was to fly to Karratha, hang around until 7pm for a bus that would take us to Carnarvon overnight. This proved to be the only hiccup in our trip. The bus had several stops and sleeping was difficult, we arrived at 4.30 in the morning. Wondering what to do we called a cab in the hope we would find a motel but would you believe Carnarvon was hosting a farmers conference and the motels, caravan parks etc had been booked out for a year. One motel manager took pity on us and gave us a room till 10am We had time for a bit of shuteye a wonderful tea and biscuits and then we hired a car and got out of town. We headed for Shark which was quite a long drive on the Peron Peninsula
This is quite a spectacular drive from the highway glimpses of the very blue seas and lots of inlets and we couldn't wait to arrive at the township. We were able to find a budget motel at the small village named Denham (the most westerly town in Australia) which was very comfortable and there were plenty of places to eat. I continued on my sea food diet enjoying the freshness of the fish. We were told that this area had better pea r ls than Broome and unfortunately as far as we know they are still there.
Next morning, bright and early we were off to Monkey Mia to see the the dolphins. It was as wonderful as the brochures and publicity states and we were thrilled to see it. It was worth all the detours and out of way ness to be there. Then on to Geraldton. We detoured to Kalbarri and enjoyed more fish for lunch with amazing views of the ocean and a visit to Rainbow Jungle bird sanctuary where there ware parrots of the most wonderful colours you have ever seen.
Back on the highway we headed for Geraldton with s short detour to Port Gregory arriving in Geraldton about 4pm. Most of the motels were on the Perth side but fortunately we found another budget motel named the Batavia. This was quite comfortable and close the main centre.
The tourist bureau was very helpful and we spent the next day touring. The Brolhos crayfish (Lobster) factory tour was well worthwhile and the museum was great, especially the exhibits concerning the Batavia. There are some wonderful old buildings in Geraldton as well as modern structures.
We left the car at Geraldton and took a bus to Perth the next day where we had two and a half days. We know Perth quite well and were pleased to visit London Court. The next day took a train to Subiaco and after a while continued on to Fremantle-a must for my husband. We returned to Perth by boat down the swan river, very interesting. Our last day we spend with relatives at Parkerville which was another highlight.
On the whole the trip worked out amazingly well (excluding the hiccup at Carnarvon) considering the lack of planning. It was rather exhausting but then that's the sort of holiday we enjoy but it might be a while before our next trip and maybe it will be more sedate, but I am already planning.
Back to travel adventures transit lounge