Still Travelling
Time for another trip, How about Portugal we haven't been there yet and why not throw in Switzerland as well and we must visit London yes and maybe a few days in Wales and my last chance to go to New York.
We came across a travel agent at a travel show who took the time to sit down and talk to us and so we started planning. A few stipulations, we want to fly with Qantas as much as possible and we didn't want to fly from Heathrow, too big, and left it with him.
The plan that was devised for us was as follows: fly to Frankfurt catch a train to end up in Geneva fly to Portugal then London, get ourselves to Birmingham fly to Dublin from Dublin to New York NY to San Francisco the Sydney Canberra, all in the space of four weeks, why not?
Planning takes along time and effort and it is invaluable to have someone to help and important to sort out the best time to go.
Having agreed to the itinerary our next step was to sort out the accommodation internet is such a help.
I think the worst part of a trip is the actual travelling, from the time we left our doorstep in Canberra until we arrived in Frankfurt was over 36hrs, but we were thankful we could occupy our room at once even though it was 8am in the morning so after a shower we curled up for a short nap for an hour or so and then set off to see what we could of Frankfurt in a day.
The hotel (The Admiral) was quite OK situated next the Zoo, modest but clean and comfortable as befits the reasonable price.
We were able to walk to the city centre and the famous square which is beautiful and still jet lagged we went for a boat ride and had a good overview of the city. That evening we has an excellent Turkish meal at a café which was close to the hotel. Yes, we thought Frankfurt was great.
Next morning, armed with our Eurail train pass we set off for Zurich. We like train travel, no luggage checks no passport control just hop on the train and go. Plenty of space, one can enjoy the scenery and watch the world (whichever part you happen to be in) go by. Switzerland is so picturesque and it reminded us of Thredbo in the snowy mountains, Terry being a keen skier. The rivers and churches etc there are great. We changed trains at Basel then onto Zurich, not a long trip, a few hours ,and then to our hotel.
Zurich
Our hotel was a little out of town and we had a few problems working out the tram and being Sunday didn't help and not that many people spoke English but we found the lake and the old city and spent a splendid few hours enjoying these delights, wonderful city and we wished we had allowed ourselves more time there. Being out of the city we settled on a Pizza café for tea and I had a hamburger, the worst meal of the whole trip, A big plate of chips with a big lump on hamburger mince on top, just awful .The next morning we caught the train to Luzern.
Luzern
There is a good information office at the railway station and we were directed to really good hotel near the river in walking distance and saved ourselves a taxi fare. The name of the hotel ' Schlossel' means 'key' and there is a big key on the outside. What a find the hotel was. It had a dining room, bar and the rooms upstairs were really comfortable. We explored the city with what time we had, unfortunately it was a public holiday and not everything was open. The next morning set off by train to 'Jung Frau" the highest mountain in Europe, accessible by train.
The weather had changed from the 30 degree heat of Munich to cold and were pleased to have our warm weather proof coats. The first part of the first part of the trip to Interlaken was great, rivers and lakes and Swiss houses' fairytale scenery. Coming from a very dry Australia the sight of swift running river soothed our souls, Changing trains at Interlaken we then began the first of the steep climbs and began to see mountains covered with snow. With each change of train the snow began to become heavier and heavier, a real thrill. Apparently there had been no snow for about 9 months, there was plenty that day. It took about 2 hours to reach Jung Frau and unfortunately it was overcast and we couldn't actually see the mountains from the windows. I was suffering from altitude sickness, we were up 4,000 metres but Terry went to the ice Display and then boarded the train for the steep descent back. How they built the railway and the facilities there is a marvel and this was way back at the beginning of the 20th century. A special day.
We didn't arrive back at the hotel till about 9pm and were thankful for a good meal there.
Next morning back at the station where we boarded the train to Geneva airport regretting that we had not allowed a few more days in Switzerland. Its interesting how suddenly Switzerland abruptly becomes French speaking and French appearance.
Lisbon
Back to a big bustling city, and as a country person my first thoughts were "what am I doing here". The trip by taxi was interesting. It was sort of peak hour and talk about road rage. I was amazed we arrived in one piece.
Our hotel, a Best Western (Eduardo vii) was situated centrally near the Marques de Pombal. We had booked the hotel on the internet and were very pleased with the accommodation it offered. It had a dining room and bar and the staff were very helpful. We set off for a walk and found a travel agent who arranged a trip to Porto for us. We really wanted to go the Algave and were all set to pay when we realised that there was a 25% surcharge for an English speaking guide. Glad we asked before booking.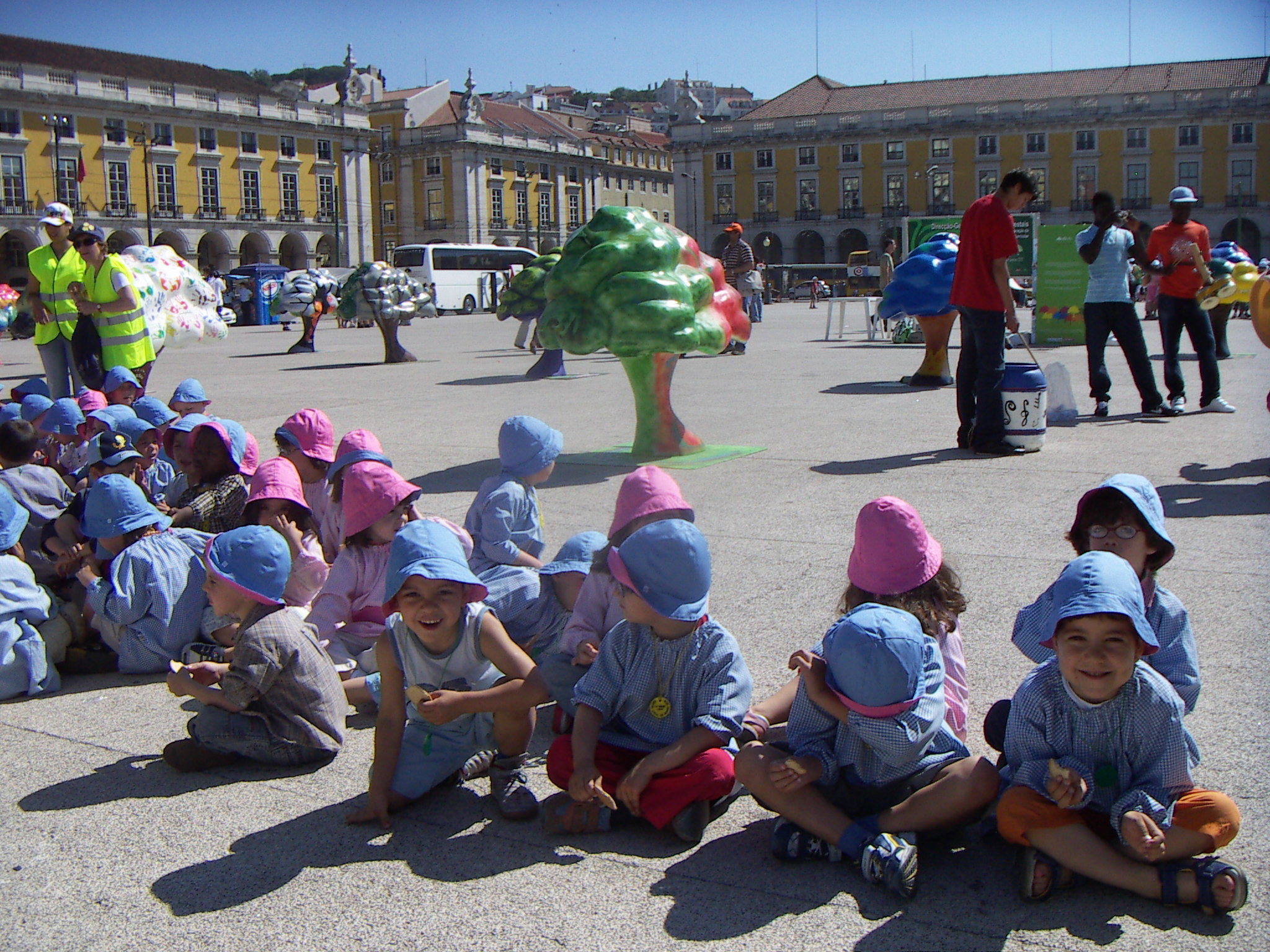 Children in Lisbon with the plastic trees
The next day we spent on an "on, off" bus which is a good way to get your bearings and see some of the sights, The following day saw us aboard a train for Porto.
O porto
The travel agent had found us a very comfortable hotel and next morning we organised a wine tour. This was one of the highlights of the whole trip.
Porto of course is famous for its Port wine. A brochure from the hotel provided details of a wine and food tour which we hurriedly booked. It was expensive but we had to do it, and as it turned out was well worth it. We were the only customers and were taken around in a car which was quite comfortable. It started with a tour of Porto, the beach the river and a number of famous bridges. Then onto Graham's Port winery for a tour and tasting, it was very enjoyable. Lunch was next. A river restaurant with a selection of Portugal's best wines, white green and red. A bit more touring in the city area brought us to an afternoon tasting which was open (it wasn't when we called there in the morning) followed by a stop at a unique bookshop, built in some sort of "art nouveau" style. After this we staggered into the Portuguese Wine Centre located in an old Bourse for (you guessed it!) Another wine tasting. It was a great day and the host was informative and spoke Fluent English. Apparently the Port wine industry is quite English and the Porto area has strong links with England, after all Portugal claims to be England's oldest Ally.
Back to Lisbon and more sightseeing which included an afternoon bust trip to Sintra - we toured the famous castle and the went to the upmarket town (city) of Estorel quite magnificent an back to Lisbon. We just had a couple of days to visit another castle, a monastery, a Fado dinner. It takes a while to work out a city especially the metro and we had really got out bearings well then it was off to Heathrow.
The plane trip was on time and uneventful until we waited and waited and waited at the carosel for our luggage. We there o good hour. Apparently the luggage was taken to the wrong place. Oh dear oh dear. We had arranged to get an airport bus right to our hotel. It was rather expensive but we had a tour of London as we dropped everyone off. We were the last, we usually are for some reason . The Accor Hotel in East London was very good, well situated with a dining room and comfortable. Excellent. As it was dinner (tea) time we set off looking for an Indian restaurant and the one we found close by was great. We often eat Indian food in Britain as we know they are very good. The one we found was particularly good.
London
We had only one day in London, we would have love more but we still managed to do a lot. Petticoat lane was nearby and being Sunday it was market day with lots of stalls selling clothing shoes souvenirs , all sorts of things but remembering the limitations of my suitcase I went easy. Next the underground to Westminister arriving at Big Ben at precisely 12 o'clock. We then queued for half an hour to by tickets for the London Eye and another half an hour seeing the best views of London. What an experience.
Wales
Next morning we picked up a car and drove to Wells, where we visited a very good friend of ours but only had time to stay a couple of hours much to our disappointment.
Our next destination was St David's a small village in Wales . We overnighted in a motorway motel near Cardiff and arrived at St David's by lunch time.
What a beautiful little village. It took us back in time with its narrow streets stone walls and friendly village atmosphere. The main feature was St David's Cathedral dating back hundreds and hundreds of years and still in use to-day. We had planned to stay overnight but were not prepared to pay the $238.00 per night for what seemed a pretty ordinary hotel so we continued on the afternoon through the most beautiful countryside to Cardigan where we found a lovely B&B.
In the morning we headed for Birmingham, stayed near the airport as we had to return the car early in the morning and catch a plane to Dublin connecting to a plane to New York. How exciting. Just about all we saw of Birmingham was the airport. The worst part of travelling is hanging around airports. Our plane was due to leave about 5pm but was delayed which made the time to catch the NY very tight, wee only just made it.
New York
We booked in to Holiday Inn NY and there was a free bus which took us there, but we found the hotel quite comfortable with a bar and dining room and little kiosk The staff were very helpful and next morning we took a taxi to Jamaica Station And a long Island train in the heart of New York. (quite expensive). I loved NY Our first stop was the Empire State building and guess who I ran into on the very top, none other than King Kong himself. (See photo below), we travelled on an on-off bus sat up on top and were driven around through the skyscrapers at a snail's pace and took it all in.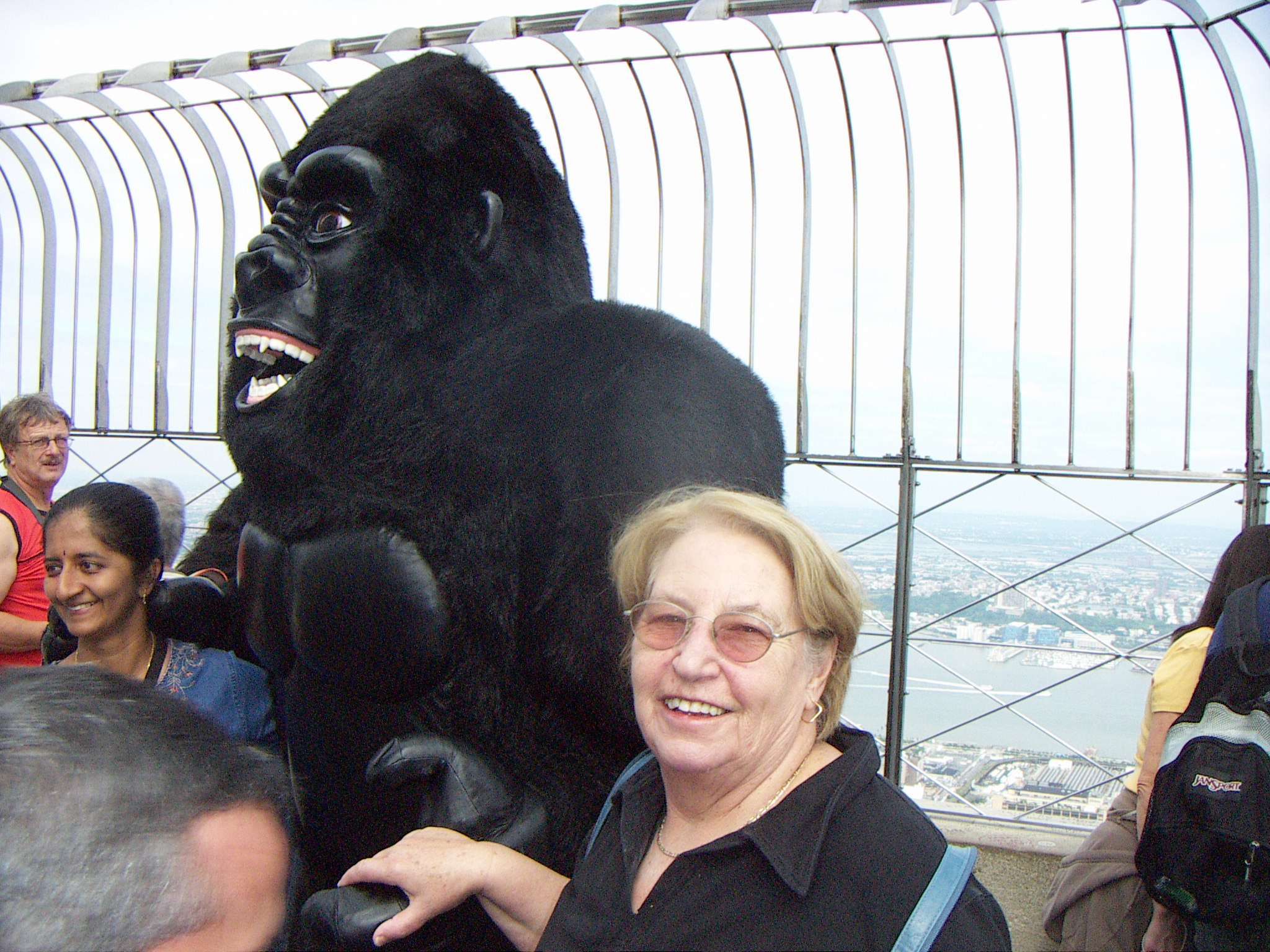 Next day we took a bus to Jamaica Station. Then the Metro (much cheaper) more sight seeing walked through central park fancy that, checked out Macy's and that was it.
San Francisco
Our next stop was San Francisco Our hotel was O.K. just (the York-supposedly a speakeasy in the prohibition era). A bit of a walk downtown, marvellous shopping (window shopping) a cable car ride down to Fisherman's wharf - I loved the cable car ride but was unimpressed with Fisherman's wharf.
A tour of Monterey and Carmel was next and it was a wonderful day. Monterey, the home of author John Steinbeck of Cannery Row fame, in fact the main drag is called Cannery row. Situated on a bay of the Pacific Monterey, is a gem. On the Way to Carmel we went through the 17 Mile (27.2 Kms) of private national park interspersed with billionaire houses and the famous Pebble Beach golf course (Bing Crosby played golf there as did Greg Norman and Kerry Packer). Those houses were incredible, on returning to Australia my husband, Terry, said that they made houses in O'Malley (a posh Canberra suburb) look like hovels.
Carmel itself was also beautiful. Clint Eastwood was once Mayor. Its full name is Carmel by the sea and it's a retreat for the wealthy of California.
The next day we managed to bus it to the Golden Gate Bridge - just wonderful but using buses is rather convoluted and involved massive walking.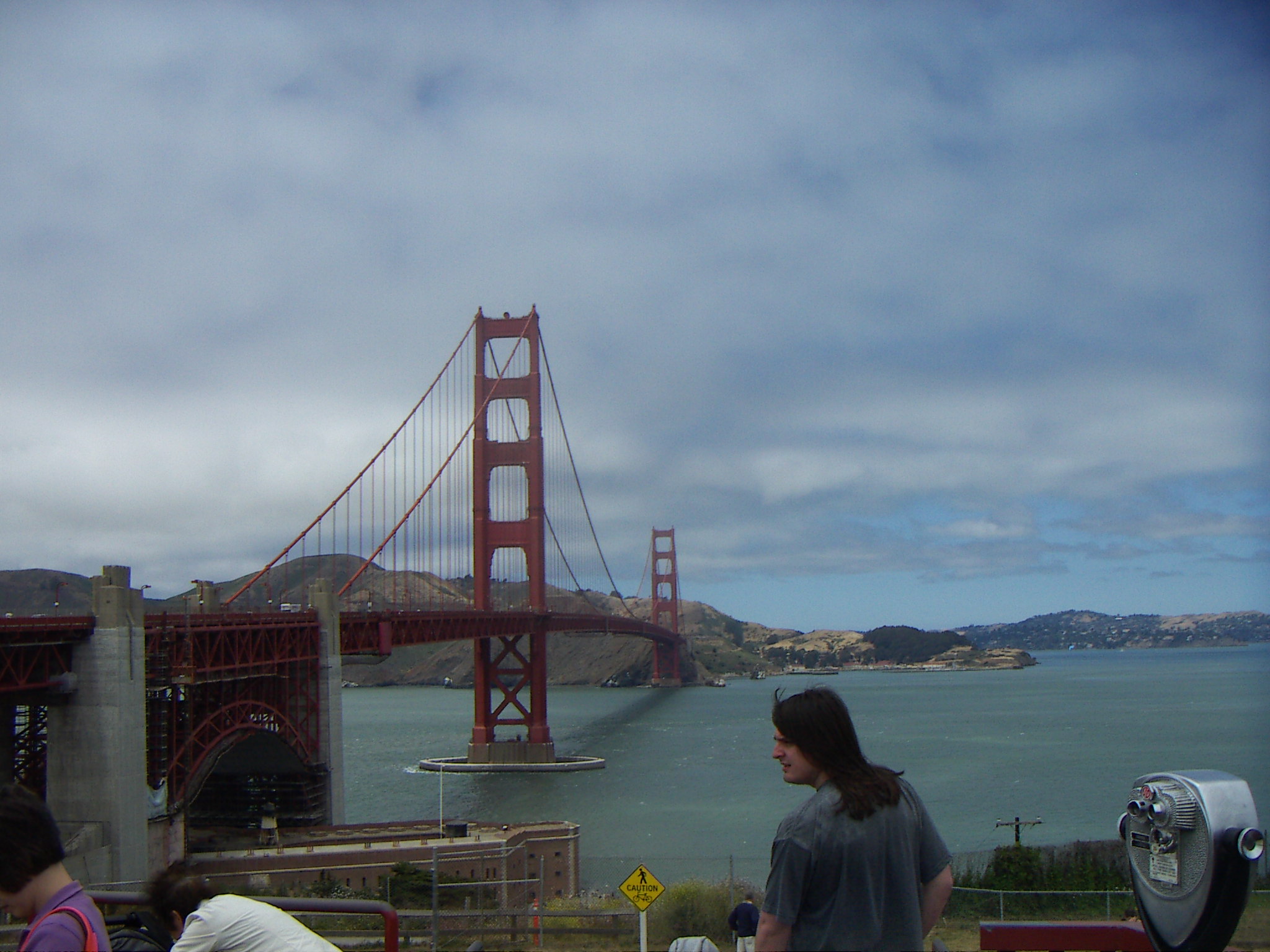 Over all the trip went exceptionally well with only a few minor hiccups and we managed very well so much so we're not done yet.
A few tips:
Most cities have public transport day passes which can be very convenient and allow you to use various public transport modes. For example in Lisbon it's called the 7 Colinas (hills) card and entitled you to unrestricted travel on the metro, trams, buses and even a lift in central Lisbon that took you from street level to an elevated platform which provided great views and access to the ruins of the Carmelite monastery. New York and San Francisco had similar cards. Public transport is a great way to get around; it's cheap and you get right into the heart of the city, experiencing it like a local. Its not for everyone though as working out the system takes time and often some help is needed.

Air travel is now a pretty awful way to travel, give yourself plenty of time at airports and fly out of cities with a low profile, especially in the eyes of Bin Laden. British and US airports have high security and require that you almost strip off before you board the plane. If you're 60 or over you can use you're seniors card in many places to get good discounts. For example trains in Portugal are discounted 50 per cent for over 65.

The Internet is a good place to book hotels and flights but make sure your hotel is near the airport or railway station if you are using that mode of transport.
Back to travel adventures transit lounge