New Zealand
---
New Zealand inexpensive, close, people drive on the left hand side of the road and most people speak English and the $A is just a bit better than the $NZ , yes we will go there.
Our grandchildren approved and put in their order for something from Queenstown of "Lord of the Rings " fame and my daughter in law mentioned that if we were going to Dunedin we might see something Scottish , her heritage.
Having toured the North Island some years back we settled on the south island with a short visit to Wellington so fly into Christchurh and out of Wellington.
Using the internet we found a hotel in Christchurch called Pacific Park it was a bit far from the airport and the city was a longish walk to the city. New Zealanders seem to have a thing about the wild west and this one had it all the OK Corral wooden slab for the bars etc. It was about 3 stars and OK, a bit far to walk to the city and we never worked out how to get the bus.
Christchurch
Christchurch is indeed quite beautiful.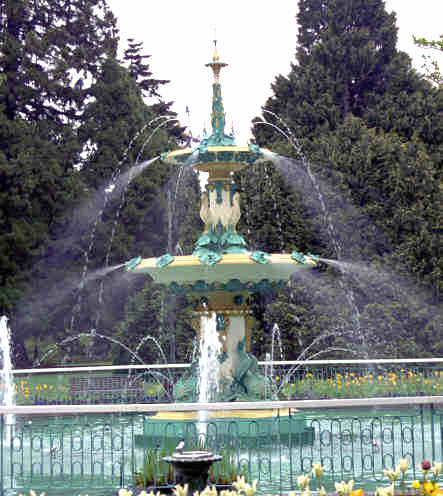 Being spring the gardens were absolutely at their best and the museum near them very interesting. In the afternoon we took a tour and were taken up to the heights with a good view of the sea, but being misty we didn't actually see too much but a stop at a castle (Sign of the Takahe) which had been built as a staging post was really fascinating. A Knight in shining armour and we thought we were back a few hundred years. It was being used as a restaurant and we took notice of that.
Photo: The ornate fountain near the entrace to the Christchurch botanical gardens
Across the great divide
Next day saw us board the Tranzalpine train to Greymouth. The 5 hr trip was indeed spectacular and far exceeded our expectation . The snow covered mountains were never far away the forest was wonderful and we could see rivers far below us . Being in the midst of a drought at home was rather refreshing. A truly great experience.
We arrived at Greymouth where our hire car was waiting. Others had a four wheel drive and although ours was quite small it proved to be very adequate. We were directed to the jade factory where we did not buy jade but a very nice lunch and then proceeded to Franz Josef Glacier arriving about 5pm.
Glaciers
Franz Josef exists just because of the huge glacier which dominates the skyline and indeed it was just so exciting when the mist cleared, there it was in all its glory-very close. We were just about through the town when we turned to find a motel.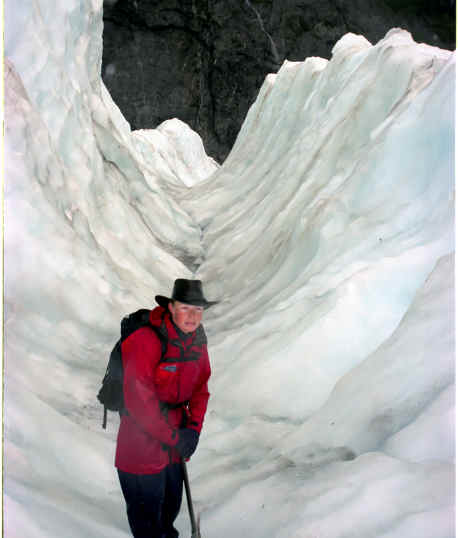 What Caught our eye, was white brick motel with widow baskets with bright red geraniums in window baskets . We were told that they were booked out as they were expecting a bus load of tourists and the only room available was a two bed roomed apartment but after some consultation it was offered to us for the price of a normal room which of course suited us very well so we enjoyed a night of luxury. It was the Alpine Glacier Motel and we can recommend it.
Photo: Glacier walk guide surrounded by ice in the Fanz Josef Glacier
Franz Josef exists only for tourists. A few shops, a few adventure type agencies i.e glacier walking and helicopter rides, etc a few eating places, a tavern with quite good food, a service station and the magnificent views of the glaciers are free.
Next morning we walked down to the glacier and were right there and in the afternoon Terry went glacier walking.
Lakes, lakes Lakes
Next morning we were on our way to Queenstown for the drive of a lifetime. I guess some people might say it was a winding road around mountains on the edge of a lake. The mountains were very high and one large lake gave way to another- hard to describe just go there. The driving was quite easy and the scenery unbelievable.
We arrived in Queenstown late morning and found our hotel the Mecure. It was a little away from the shops high on a ridge overlooking the lake, once again spectacular views. The walk to the shopping centre was easy, the walk back was really steep so we took the car. Queenstown is a smallish town- touristy as you would expect quite pleasant with Lake Wakatipu-dominating everything.
That evening we took a gondola ride up a mountain where we had dinner-great views terrible food.
Next day we went to Arrowtown one of the sites of the making of the film "Lord of the Rings" and called into the visitors centre and bought the mementos commissioned by aforesaid grandchildren. Arrowtown is quite something. Once again, dominated by huge mountains, a beautiful river and the quaint buildings which looked as though they had been there a couple of hundred years and still unspoilt by too much tourism. After that we went to see the jet boating and one of us, not me took his life in his hands and was flung along the river.
Next morning we left early for Milford Sound. Once again the scenery was spectacular , rushing rivers, waterfalls and at one stop we saw a friendly 'kia' bird. New Zealand does not have a lot of birds and animals apart from possums which found their way from Australia and have become a pest. There is quite a trade in possum fur, scarves etc. There were many tourist buses on the road but fortunately they too made stops and we did pass them but it wasn't long before we were behind another one. Not a big problem.
Milford sound
We were just in time to sort out the tickets for the boat trip, though the sound which is not a sound but a big fiord- it was a trip not to be missed and after the tour we visited a sort of aquarium except that we were on the inside and the fish were on the outside swimming around in their natural environment and we were the ones walled in. Worth seeing.
From Milford sound we drove to Te Anau where we had booked into a caravan park for something different, This was quite comfortable and had the added benefit of having washing machines and dryers - much need after a week of travelling. We ate at a local hotel called the Ranch I guess the food was OK for a pub. Te Anau is on the river and is quite a friendly place.
Next morning we set out for Dunedin with a few hours to stop at Invercargill. At Invercargill we visited another beautiful garden and the local museum and then drove about 20kms to the Bluff where we were so south we could almost see Antarctica-the most southerly we have ever been, and then on to Dunedin.
Dunedin
Dunedin was much bigger than expected and we loved it. We found a great Motel Had its own kitchen and a couple of kilometres from the main shops and restaurants. The problem we had the first evening was the pouring rain and we drove in couldn't find a park and ended up with takeaway.
Next morning was fine and walking was the way to go. I paid a visit to the Scottish shop and attended to a few thing and then we took a short bus trip round the town , had a look at the shops found a good coffee shop , the picked up the car and drove out to Larnach Castle- a real castle now run as a tourist attraction and well worth seeing. Another feature of Dunedin is its magnificent railway station , used now only for excursions and we have since been told it is very good trip.
Some fine examples of Dunedin's architecture (left) the railway station (right) Otago University.
Another example of fine architecture is the Otago University, built in a Scottish style on the banks of a small river it makes an imposing impression.
Time to head back to Christchurch. Only about a 5hrs drive except Terry wanted to revisit Methven where he had stayed previously on a skiing trip. A small friendly town with a nice pub and a pleasant lunch. This time in Christchurch we stayed at a Motel called ' Annabelle' which was part of the same chain of the motel in Dunedin, and very good. Close to a Mall and not too far from the city.
Having a car was great. We visited the Antarctic Museum, world class. One feature in particular apart from the exhibitions about the various expedition including a sled laden with provisions (I found it quite fascinating to see the sort of things they took) was a room covered with snow and we donned some appropriate clothes and were subjected to a simulated blizzard. Why do I do these things?- I hate the cold.
We then drove down to the coast - New Zealand apparently is the only place in the world where the scenery included a beach and snow covered mountains. Don't the New Zealanders know that sand is yellow not black.
And that was about it for the car, it had served us well but it is always good to get them back in one piece. Dinner that night, well the castle with the unusual name "Sign of the Takahe" was appealing. We were told that if you wanted to eat there you'd have to have plenty of money. How much? It was worth a punt so there we went, one of the best meals we'd had in New Zealand. Expensive, well yes but not overly so. Main courses in the mid $30s, judge that for yourself.
On to Wellington
Next day it was back to the Christchurch railway station this time for the Tranz Scenic to Picton. It wasn't a bad trip but not as scenic as the Tranz Alpine. But there was a stretch where we went right onto the coastline with wonderful ocean views, that was great. As our ultimate destination was Wellington we had to complete our journey on a ferry across the Cook Strait, a notorious stretch of water. On the train trip it was obviously very windy, a bad sign for a boat trip and thoughts of sea sickness came to mind.
The first part of the boat trip was in a large inlet which wasn't too rough and even in the open sea it was OK as the wind was directly behind the boat, no sea sickness and a good trip into Wellington.
We'd been there before and decided it was worth a return visit. A fairly compact city build around a harbour and hills. A visit to the New Zealand Parliament (not the beehive which is an administrative centre) was a must. We were told that the Parliament sits on rubber mounts to prevent earthquake damage together with a lot of other interesting information. In the afternoon a short harbour cruise was the perfect way to end the trip, at only $3.00 it was great value.
That night dinner was at the Arizona restaurant, another example of New Zealand's seeming fixation with the wild west. But it was a perfectly adequate meal.
Next day it was back to Airport for the return trip to Sydney. All in all a great trip and after hanging around airports its nice to get home and start thinking about our next expedition.
---
Back to travel adventures transit lounge